Botox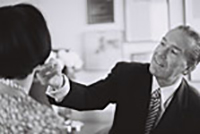 It can be frustrating when you feel alive, energetic and youthful on the inside, but the mirror tells a different story.  Wrinkles, lines and creases happen, no matter how often or how hard you exercise, and no matter how disciplined you are with nutrition.  You may look younger than many of your peers and you certainly feel it, but those lines will always find a way to creep in.
Luckily, if you want an easy, non-surgical option for your wrinkles, there's BOTOX®.
A Long History of Success
BOTOX ® was approved by the Canadian government for treating muscle overactivity disorders like misalignment of the eyes more than a 30 years ago. It is also approved for issues with hyperactive muscles like cerebral palsy in children. For the last decade the most common use of Botox is cosmetic. Primarily for wrinkles and creases around the eyes and forehead.
How BOTOX Cosmetic™ Works
BOTOX Cosmetic™ is designed to smooth lines and wrinkles caused by frowning and squinting.  After an injection of BOTOX Cosmetic™, the muscles that cause these wrinkles are relaxed, and your face looks refreshed.  The treatment is so fast and seamless that many people even have it over their lunch hour.
Botox will last 4-7 months, and should be repeated as necessary. Regular treatments prevent your wrinkles and expression lines from becoming deeper.
Fillers
While BOTOX Cosmetic™ relaxes the muscles, fillers work to actually fill in the lines, wrinkles and valleys so they are no longer visible.  One of the most commonly used fillers is JUVEDERM.
Juvederm is a sugar molecule known as hyaluronic acid, in a gel form that flows into your skin smoothly. This provides a natural look and a natural feel. JUVEDERM is made by the same company that brought you Botox Cosmetic™. Treatment generally takes about 30 minutes and the results can last up to 18 months depending on the type of Juvederm used. Under the Juvederm family we offer: Voluma, Ultra Plus and the newest filler Volbella; a smoother thinner consistency which works wonders for the lips and under the eyes by adding volume to the areas while giving a natural appearance. Fillers are a great way to add volume to some sunken or hollowed out areas of the face such as around the mouth or cheekbone areas as well as plumping up the lips. A natural, no downtime and easy way for a more youthful appearance.
NON-SURGICAL MEDICAL AESTHETIC SERVICES:
LASER HAIR REMOVAL
Using the LightSheer Diode Laser; unwanted hair can easily be drastically reduced or often eliminated after 4-7 treatments with the laser. Perfect for legs, bikini line, underarms, facial areas, back and abdomen.
IPL- INTENSE PULSED LIGHT
Using high intensity light rays in short intervals of time; they are administered in pulses which is how the treatment earned its name. The procedure targets discolouration of the skin (mainly browns and reds.) By targeting specific areas, it eliminates unwanted pigmentation of the skin. It is specifically effective for rosacea, sun and age spots.
MICRODERMABRASION
Microdermabrasion is an exfoliation treatment which lifts skin imperfections and promotes cell renewal. The intensity of the treatment will vary depending on your skin concerns; targeting dull congested skin as well as large pores and fine lines all while leaving your skin glowing immediately after your treatment.
CHEMICAL PEELS
There are several kinds of peels one can do. It all depends on the clients goals as well as what is best suited for ones specific skin condition. A consultation with one of our medical aestheticians will allow you to have a customized skin care regime best suited for you.
SKIN CARE PROGRAMS AND PRODUCTS
We offer a variety of medical grade skin care products with the highest level of quality ingredients. A complimentary consultation with one of our medical aestheticians will allow you to have a customized skin care regime that is best suited for you.